ULTIMATE PROTECTION AGAINST SNAKE BITES
Protect yourself and your family from deadly snake bites with high quality, durable and affordable snake gaiters.
The snakeprotex gaiters will put you at ease as you trek through the bush by protecting your lower legs from unseen snakes. These gaiters are made to last in the harsh Australian outback and designed to protect you from the venomous Australian snakes.
The gaiters are available in four sizes to suit leg dimensions of most adults. Snake gaiters will take the stress out of walking through bush land and give you the opportunity to enjoy the great outdoors.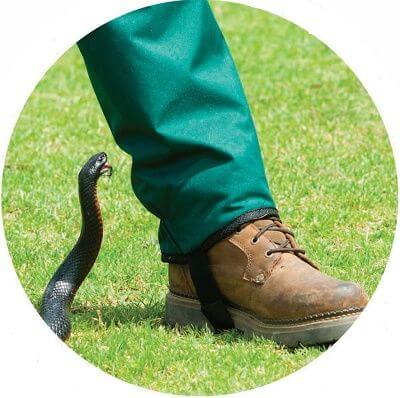 For those of us who love the outdoors; in particular camping or hiking, as well as those that work outdoors such as park rangers, surveyors, environmental technicians, etc . There is always the chance of accidentally stepping on a camouflaged snake, causing them to react defensively and striking at whatever is causing them pain.
The overwhelming majority of snake bites are caused from humans unknowingly disturbing a snake. If you are someone who spends time outdoors, especially in the bush, then you understand the constant anxiety and worry faced when moving through long grass or bushy areas. The constant feeling that your next step may land on the tail of a highly venomous snake can be paralysing.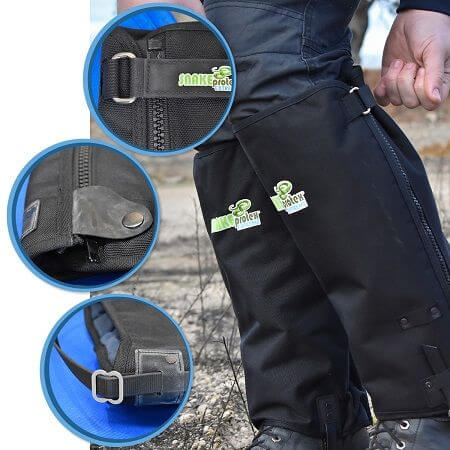 Luckily, there is a product available to protect and give you peace of mind. They are called snake gaiters, and they are a simple, easy to wear, non-obstructive piece of snake-bite protection. They are worn around the lower legs, from knee to ankle and provide an impenetrable layer of fabric against snake fangs. Snake gaiters are a must have for anyone spending time outdoors in snake inhabited areas.
SNAKEPROTEX SNAKE GAITERS
Designed and developed in Australia
Water repellent
Adjustable boot straps for better fit
Adjustable top leg strap
900 weight denier fabric
1 year warranty against defects
AFFORDABLE
Prices do vary depending on the maker of the gaiters. There are a lot of cheap imitation style products that I doubt have even been tested against a snake that we certainly don't recommend. There are also some great brands that have been tested against live snakes and prove their worth. The video below shows one brand of Australian made gaiters going toe-to-toe (no pun intended) against the deadly red-belly black snake.
You are going to pay a bit more for the quality you receive, but is saving a few dollars really worth risking a bite from a deadly snake?
COMFORTABLE FIT
Snake gaiters are designed to be worn over jeans or long pants with boots on your feet. They are designed using mainly polyester and polyester-cotton blend fabrics with a waterproof layer in the middle. The material is light, durable and more importantly, resistant to snake bites. The waterproof layer prevents any snake venom soaking through the gaiters.
There are no strings or buttons hanging off them, meaning you won't get them caught in grass and shrubbery as you walk around. The gaiters are nice and light and follow the shape of your legs. You won't even notice them once they're on.
EFFECTIVE PROTECTION
Good quality brands of snake gaiters are tested against live snakes to prove their worth. Watch the video above and you'll have no doubt these things work. When you see someone willing to use their own leg and risk their own safety to show how good gaiters are, you know that's a good product
When it comes to protection against snakes, most of us would rather some form of deterrent against snakes to avoid coming that close to one in the first place. Unfortunately, our lifestyles often take us into areas inhabited by some of the world's deadliest snakes. This creates the need for some kind of 'body armour' against those slithery serpents.
99% of snake attacks on bushwalkers are to the feet, ankles and lower legs. And while it is possible to suffer a snake bite above the knee, it's very unlikely. The snake gaiters are designed to protect against the most common bite areas. They are not guaranteed to stop every single bite under every single circumstance, but they are by far the best and most effective form of snake defence.
ANYBODY CAN WEAR THEM
This unique piece of protective clothing can be worn by virtually anybody. Now you can protect yourself and the family against bites and scratches from shrubs and sticks. The size range of small to extra large ensures people of all shapes and sizes can wear and be comfortable in these new-age defensive chaps.
Snake gaiters are easy to store, easy to wear and easy to see just how necessary they are for everyone moving around the bush. Enquire now for our range of gaiters and our latest deals.
IMPORTANT
We do not promote cheap imported snake gaiters that have not been field tested against the kind of snakes you are going to encounter. For your own safety, please beware of cheaper, inferior designs
| Size | Circumference at Knee | Length | To fit leg Circumference* |
| --- | --- | --- | --- |
| S | 430 mm | 385 mm | 410 mm |
| M | 490 mm | 400 mm | 470 mm |
| L | 550 mm | 400 mm | 530 mm |
| XL | 600 mm | 400 mm | 580 mm |
| | | | |
$149.00 per pair – FREE shipping